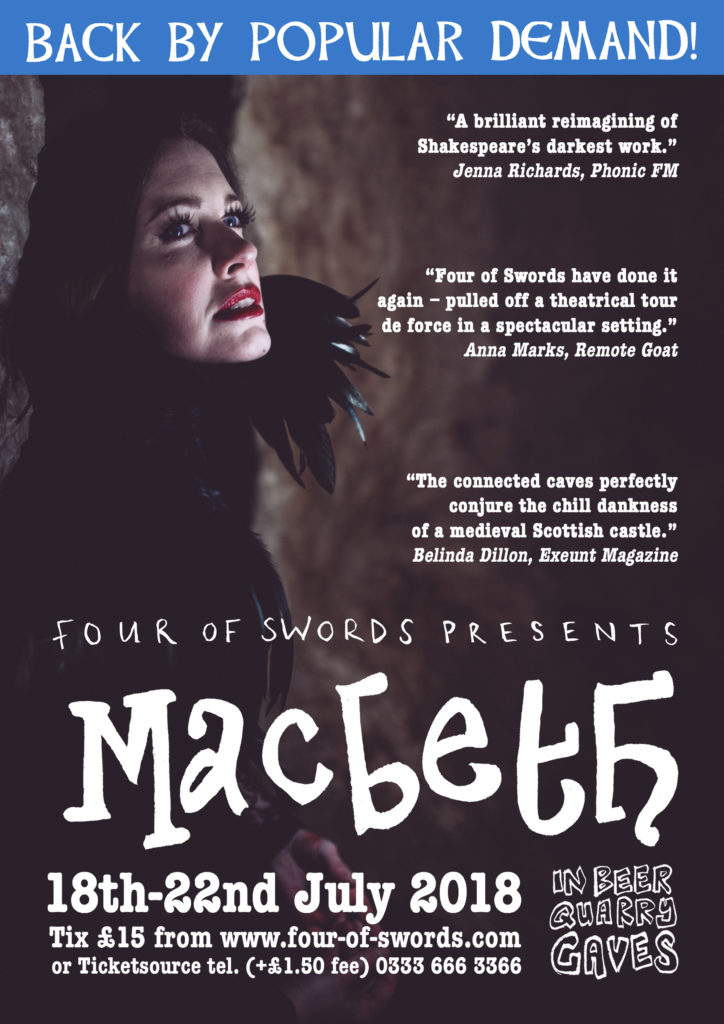 Just as Summer time is flourishing on the earth, FOUR OF SWORDS desires to lead you into the underworld of BEER QUARRY CAVES for their own unique and blood-curdling version of The Scottish!
This subterranean production is a reprisal of FOUR OF SWORDS' hit 2014/16 show, and presents the Witches as Viking priestesses and goddesses of Destiny who guide the audience through the labyrinthine caverns of Macbeth's homicidal ambition. The show features Shamanic techniques, haunting live music, gruesome film projections, Icelandic chanting, a splash or two of gore and even some Highland sword-dancing.
The company deserve huge applause – there were strong performances all round with too many stand-out moments to describe.
Anna Marks, Remotegoat
The connected caves – complete with bats – echo with a constant drip-drip-drip, perfectly conjuring the chill dankness of a medieval Scottish castle.
Belinda Dillon, Exeunt Magazine
As with previous FOUR OF SWORDS productions, audiences will be standing and walking for the duration of the 1 hour 15 min show. Please wear sensible footwear, warm clothing and bring a torch to help you find your way to and from the car! Please be advised that this show is too creepy for under 11s.
GET YOUR TICKETS HERE!
Dates: 18th-22nd July 2018  Times: 6.45pm & 8.45pm  Price: £15
Location: Beer Quarry Caves, Quarry Lane, Beer, Seaton, Devon EX12 3AT