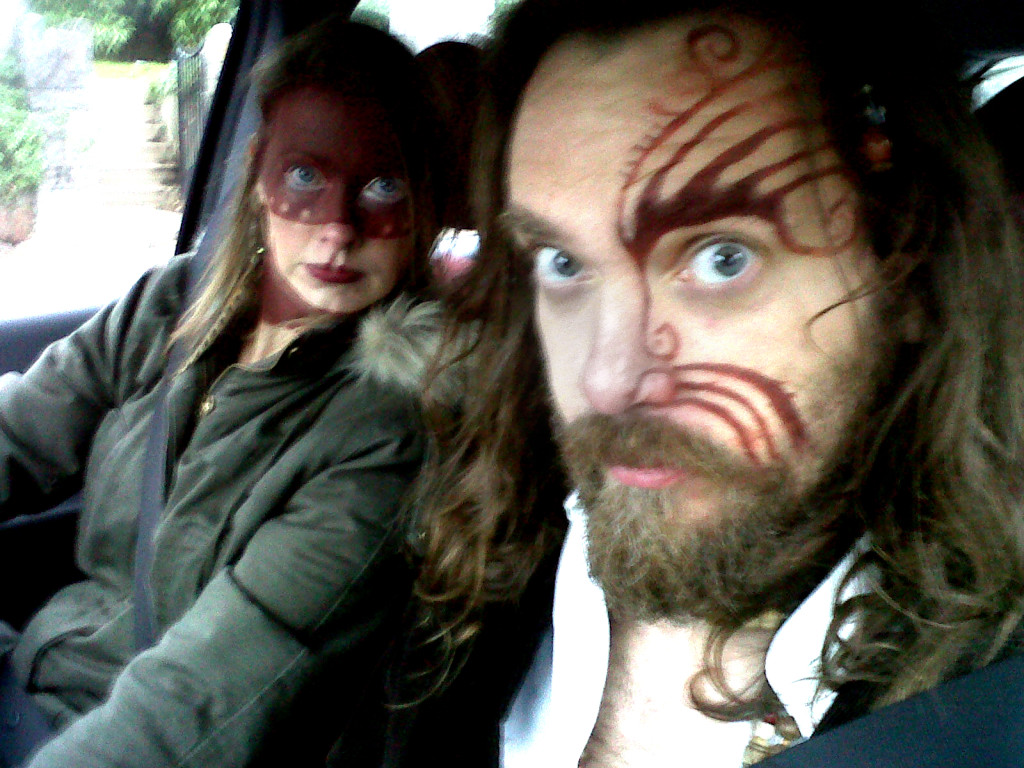 We are SARAH WHITE and PHILIP KINGSLAN JOHN.
In 2013 it all kicked off for us; we won acclaim and gained great reviews for our first two shows: JEKYLL & HYDE at POLTIMORE HOUSE, first performed in May and then reprised in October, and GAWAIN & THE GREEN KNIGHT, performed at the EXETER PHOENIX in December.
But I know what you're thinking: "Who are you really, and what were you before?" Read on to find out. Also, you can email either of us directly or check us out [and "LIKE" us!] on Facebook:
sarah@four-of-swords.com / phil@four-of-swords.com / https://www.facebook.com/fourofswords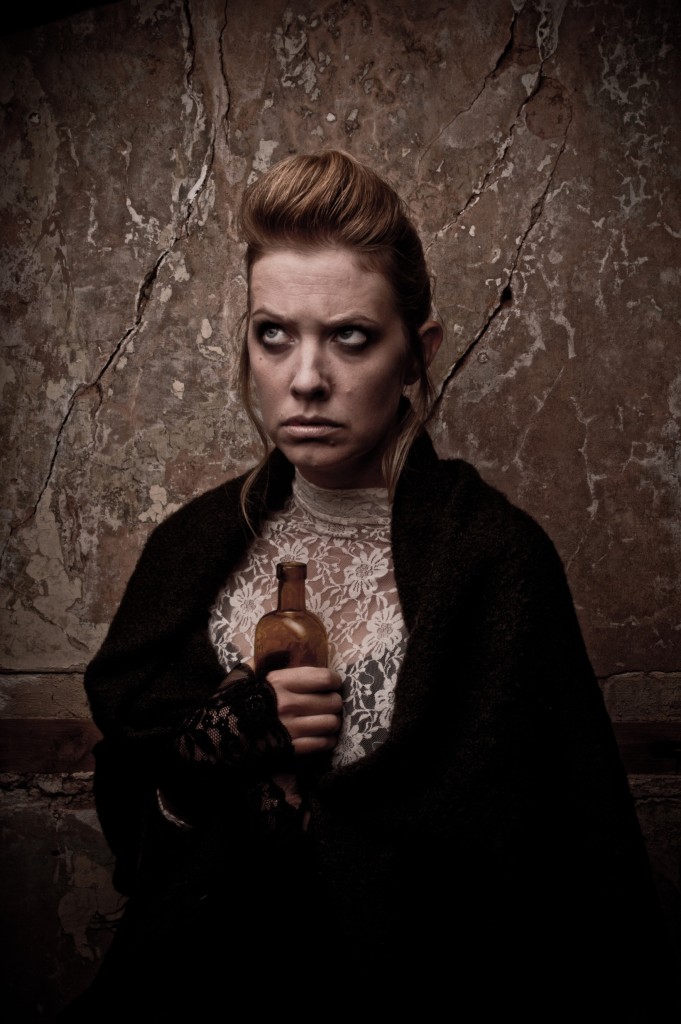 In 2004, SARAH WHITE graduated from Kingston University in Drama and Film. She spent the next few years performing at smaller venues in and around London, and spent her summers at the Edinburgh Fringe Festival.
A country girl at heart, she moved back to Devon in 2009. In 2011 she directed Doug Wright's Quills at the Barnfield for Exeter Alternative Theatre, which drew large audiences and won flattering reviews.
"If de Sade lived in the world of Mervyn Peake,
his life would look like this."
"I expected Johnny Depp or Helena Bonham Carter
to stroll in at any moment."
In 2012, Sarah co-wrote and performed Self-Centred for Exeter Ignite festival, which was subsequently recorded for radio and booked for local colleges and Pride festivals. She also starred in The Haunting of Romany Rye for Nightshade Theatre in Sidmouth, written by ITV's Jane Bennett.
Outside of FOUR OF SWORDS, Sarah continues to pursue other directorial projects, such as Skin Deep for Substance and Shadow Theatre, which won rave reviews and sold out at The Bike Shed, as well as develop her acting career, most recently returning to work with Jane Bennett and Nightshade Theatre and appearing in short films Seeing Red and The Sqweakening.
[Below: photo of Quills by Nigel Cheffers-Heard]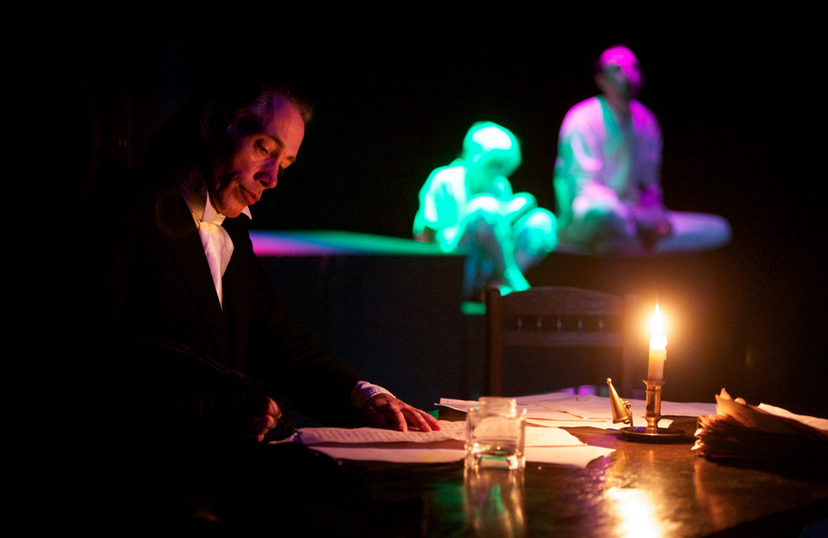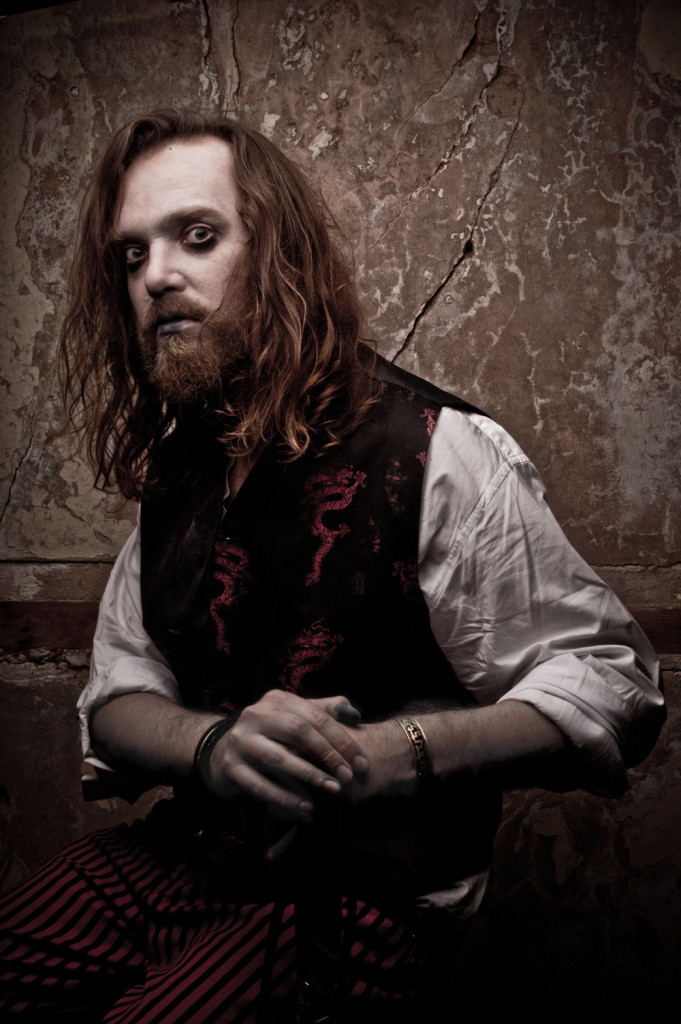 Like Sarah, PHILIP KINGSLAN JOHN was born and brought up in Exeter. He studied English at Cambridge before spending some years teaching in such exotic and romance-ridden locations as Mongolia, Japan and… Newport South Wales.
Phil returned to Exeter and became embroiled in the theatre. He made his directorial debut in 2009 with Ted Hughes' Alcestis, produced by the Farringdon Society of Arts.
"From Alcestis' poignant death to the moments of ribald comedy and a stunning multimedia dream sequence, it packed a Herakles-sized punch from start to finish."
The following year, Phil translated and directed The Voluptuous Atrocity for Exeter Alternative Theatre [EAT], which combined dance, live music and video projection.
"The creativity here is fascinating, as is the ability to shock and surprise."
In addition to his adventures with Four of Swords, Phil has continued to work with EAT, writing for 2012's A Dark Victorian Cabaret, an extract from which was performed on BBC Radio Devon, and directing for 2013's Summer of Terror tour. In December 2014 he was a singing shepherd in The Bludebirds' Christmas Mysteries.
[Above: portrait photos by Matt Austin / Below: artwork by Philip Kingslan John]