We are FOUR OF SWORDS, a theatre, film and education company based in the South West. We specialise in creating visually spectacular, bombastic adaptations of classic stories, and delivering innovative education projects.
Here's what's coming up…..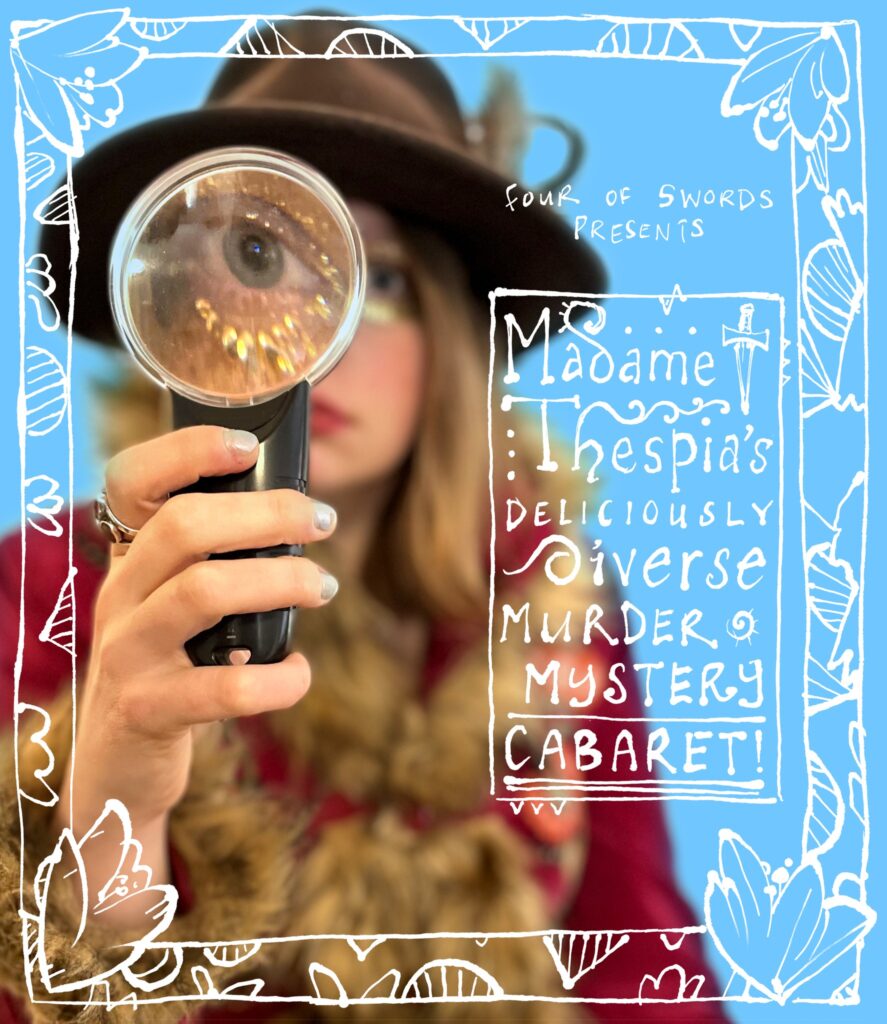 Madame Thespia's Deliciously Diverse Murder Mystery Cabaret!
13th June The Barnfield Theatre, Exeter 6.30pm Tickets £7.50 BOOK YOUR TICKETS HERE!
For one night only we are taking over the Barnfield theatre (how did we wrangle that!?)
Madame Thespia's Deliciously Diverse Murder Mystery Cabaret begins as an open mic variety show, open to all, but platforming especially the work of neurodiverse, emerging artist, global majority, gender non-binary and LGBTQ+ practitioners.
The show then veers dramatically into left field, becoming an immersive, unpredictable murder mystery experience! Audience members are led backstage, encouraged to interview suspects and implored to help catch the killer! All the while wondering whether the legend of the Phantom of the Barnfield could possibly be real… This promises a truly unique night out with earnest, radical performances from local emerging and neurodiverse artists.
Madame Thespia's Murder Mystery Cabaret is built on the back of three outrageously successful open mic nights at Exeter Phoenix, supported by Exeter Northcott and the Pelican Project and produced by Four of Swords.

CAN YOU HELP?
We have also been crowd funding to help get this ambitious evening off the ground. We're only a few hundred quid away from our target, if you can help support this brilliant project, that would be wonderful… if not, no worries, please save the date in your calendar (13th June) and give it a share! Big love and many thanks!
https://www.justgiving.com/crowdfunding/four-of-swords?fbclid=IwAR2heVTRo7qBsWwY0Mqpu7YSCFi4H5rxrJRbfr0QEBtsiNjRstD0p9hPnFs
---
MEDEA @ Beer Quarry Caves
It's an oldie but a goodie. After sell out runs over the years we are returning to the stunningly spooky Beer Quarry Caves in July for two weeks of atmospheric, subterranean, candlelit performances of MEDEA.
"Utterly utterly stunning. We were mesmerised"
Exmoor Magazine
Dates & Venue info:
5th – 15th July
Beer Quarry Caves, Beer, EX12 3AT
7pm & 9pm
Tickets £17.50
BOOK TICKETS HERE
Freely adapted from the Greek masterpiece by Euripides, Medea promises to enchant and terrify with spine-tingling choral singing, a masked chorus of Corinthians and just a little bit of blood. Hell, as they say, hath no fury!
An adventure to get there but well worth the journey, the team at the caves will also be putting on a BBQ so you can grab a bite before the show or after to warm up!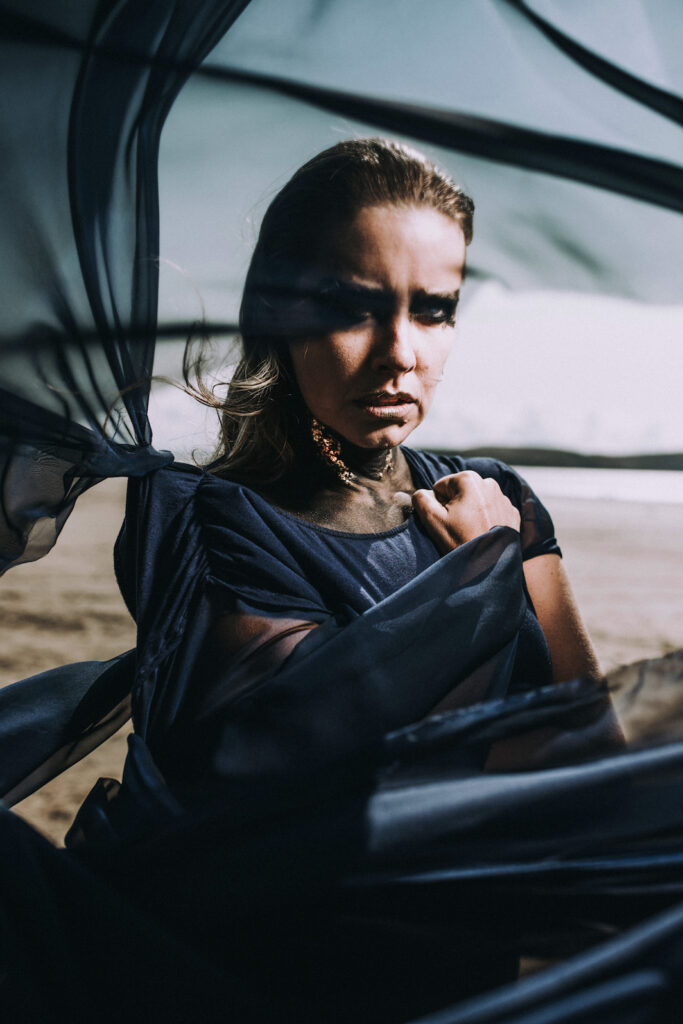 ---
SCHOOLS PERFORMANCES / EDUCATION DAYS / WORKSHOPS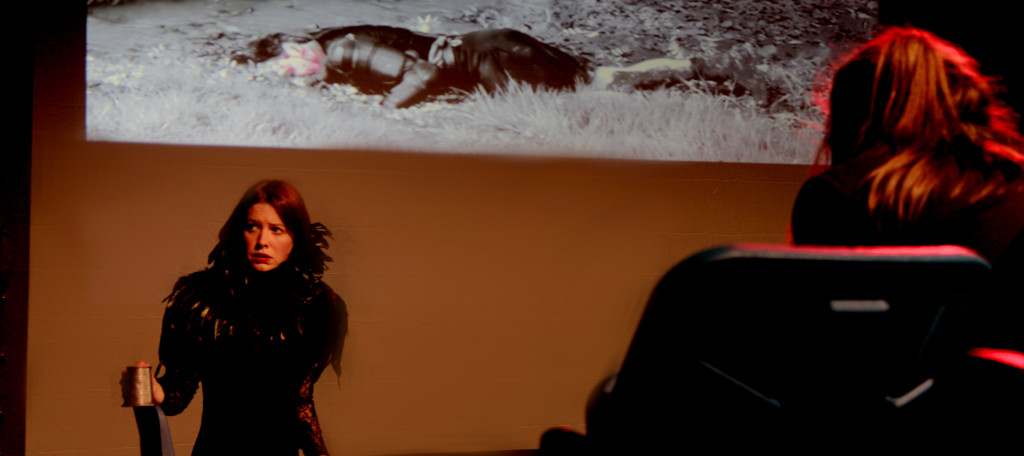 FOUR OF SWORDS has been working hard to build up its portfolio of schools visits and educational projects. We have now performed for 1,000 students in total and collaborated with CAMBRIDGE UNIVERSITY PRESS on the production of digital resources for schools.
For more information please visit the EDUCATION section of our website.
Are you a teacher? Do you work at a school or perhaps a youth group or language school? Surely you MUST be interested in booking FOUR OF SWORDS for a special performance of MACBETH, JEKYLL & HYDE, GAWAIN & THE GREEN KNIGHT or DOCTOR FAUSTUS!? We also offer supremely enlightening workshop sessions!
"The children felt very special to have a performance just for them…
I'll never forget the look of horrified delight on their faces."
Teacher feedback, Clyst Vale Community College
"The best impact day we've ever had!"
Teacher feedback, St Peter's C of E Aided School, Exeter
CONTACT US
If you would like to join the mailing list and be kept up to the minute informed, OR indeed if you would like to suggest a funky venue we may not have thought of… then get in touch: sarah@four-of-swords.com or phil@four-of-swords.com