FOUR OF SWORDS creates visceral and bombastic immersive theatre experiences in awesome places (e.g. MEDEA in Beer Quarry Caves)… spell-binding education and community projects (such as 1984: WE LOVE BIG BROTHER, collaborating with people with lived experience of hearing voices and seeing things)… cool and quirktastic outreach with performers from the neurodiverse community (such as MADAME THESPIA'S DELICIOUSLY DIVERSE CABARET)… and more besides!
---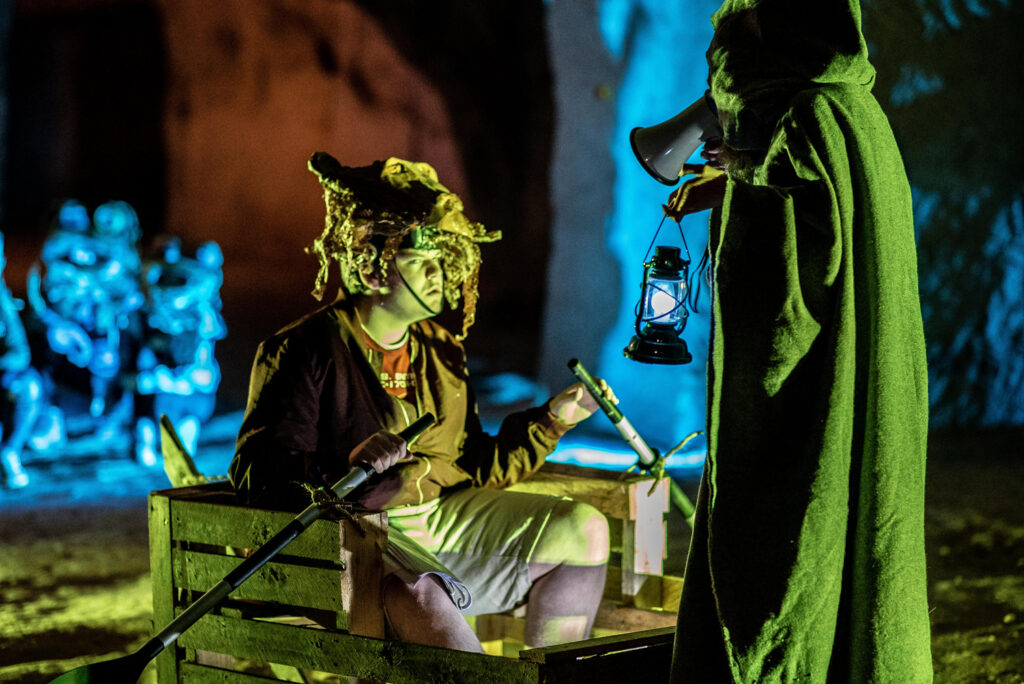 Four Week Course for 13-18 yr old Writers, Theatre Makers & Mythology Buffs!
Mondays from Mon 20th Nov
at Exeter Phoenix
(January course
dates for Honiton
coming soon!)
Following our extremely rewarding Immersive Theatre School at Beer Quarry Caves, it seemed like there was a real appetite for more year-round opportunities. Four of Swords is therefore teaming up with Exeter Phoenix and The Beehive Honiton to offer a unique course in adapting Greek Myths into a compelling, supercool theatre scripts.
All our family are very grateful Theatre School. You helped our daughter to discover and develop her hidden talents! You also taught our daughter how to work in a team, to believe in herself, to develop confidence! You are doing a great job!
Parent feedback from Immersive Theatre School, Summer 2023
We will be using the myth of Odysseus and the Cyclops as our starting point, weaving in other inspirations and analysing different versions of the myths, and culminating in a table read with a selection of professional actors, giving direct and tailored feedback to the students on their scripts. The plan is that the best ideas from these sessions will provide the basis of the script for our 2024 Immersive Theatre Scool production, which will be EVEN BIGGER AND BETTER than this year's!
INTRODUCING OUR TUTORS
This course will be taught by Four of Swords co-founders Sarah White and Philip Kingslan John. Sarah is an experienced actor and a creative producer extraordinaire. Philip worked for ten years as a secondary school English teacher. He now specialises in writing and directing, and has also written for Pearson and Cambridge University Press.
DATES & INFO:
Mondays 20th Nov, 27th Nov, 4th Dec, 11th Dec at Exeter Phoenix
5pm – 6:30pm each session
Ages 13 – 18
Tickets £55
BOOK TICKETS HERE
or to arrange a taster session / book individual sessions
email phil@four-of-swords.com
---
The Magnificent Madame Thespia Returns with her Open Mic Cabaret!

After three barnstorming open mic cabaret nights, and one enthrallingly immersive murder mystery experience, Madame Thespia and her compatriot Gustave LeGrump are extremely excited (well Madame Thespia is… not sure about Gustave) to be coming to Exeter Central Library with a Christmas Carol-themed cabaret!
ARTISTS! APPLY NOW FOR A PERFORMANCE SLOT! We invite all poets, singers, actors, comedians, film-makers, dancers and artists of all and any discipline to come and share the stage (max 7 min slot). Madame Thespia's Cabaret is for everyone, especially LD/Neurodiverse/Emerging/ Global Majority/LGBTQ+ artists and performers.
This time we're asking performers to categorise their acts as "Christmas Past", "Christmas Present" or "Christmas Yet To Come". Please reserve a slot in advance by contacting thespia@four-of-swords.com or phoning Gustave on 07584 222659.
This project is run with the generous support of Libraries Unlimited, the Pelican Project and Exeter Northcott.
Dates & Venue info:
Thursday 7th December at 8pm
Exeter Central Library
Tickets £5 (carers go free)
BOOK TICKETS HERE
Age Guidance: 14+ (there may be some mild language and adult themes)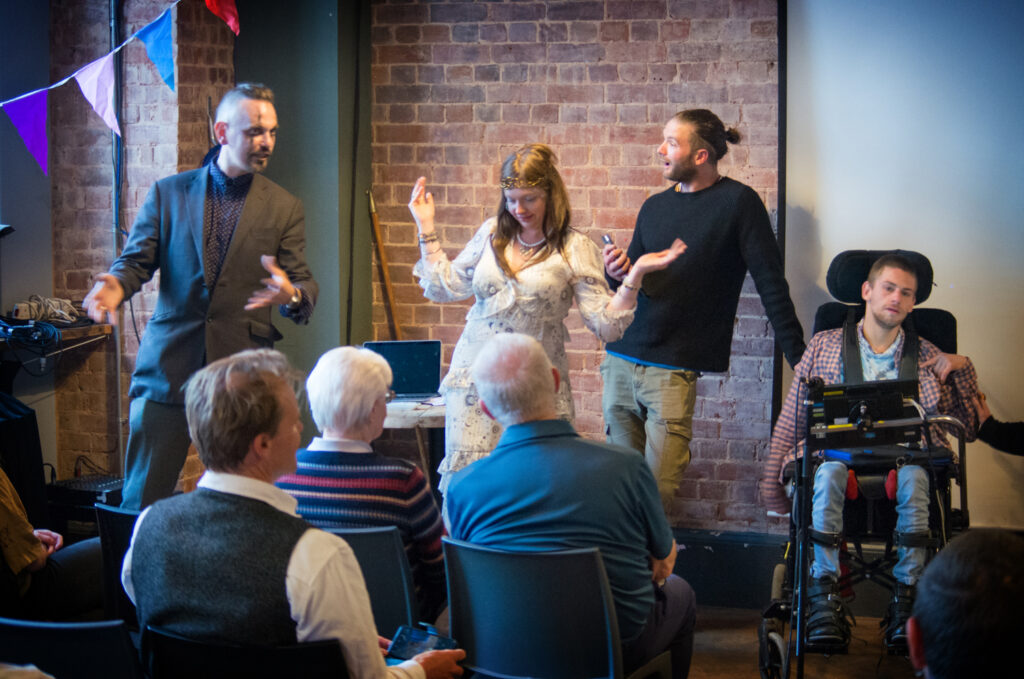 ---
The History of Four of Swords
Four of Swords Theatre was founded in 2012, born of two friends' determination to create sensational theatre, and right from the start the use of film projection in their theatre shows was integral to their work. Since 2014, they have combined their filmic and theatrical expertise for Exeter Phoenix's Summer Film School and other filmmaking workshops including 'Sherlock Holmes and the Mystery of How to Act on Film'. In 2018, Film School even went international, when Four of Swords took it to Shanghai, China. Recently, Four of Swords has been working on some epic multimedia projects such as "Beyond Gaia" at Exeter Cathedral, funded by the Heritage Lottery Fund, and "1984: We Heart Big Brother", funded by the Wellcome Centre at Exeter University.
Four of Swords have created three immersive theatre shows at Beer Caves over the years including adaptations of Shakespeares Macbeth and Greek classics Medea and Oedipus.
---
SCHOOLS PERFORMANCES / EDUCATION DAYS / WORKSHOPS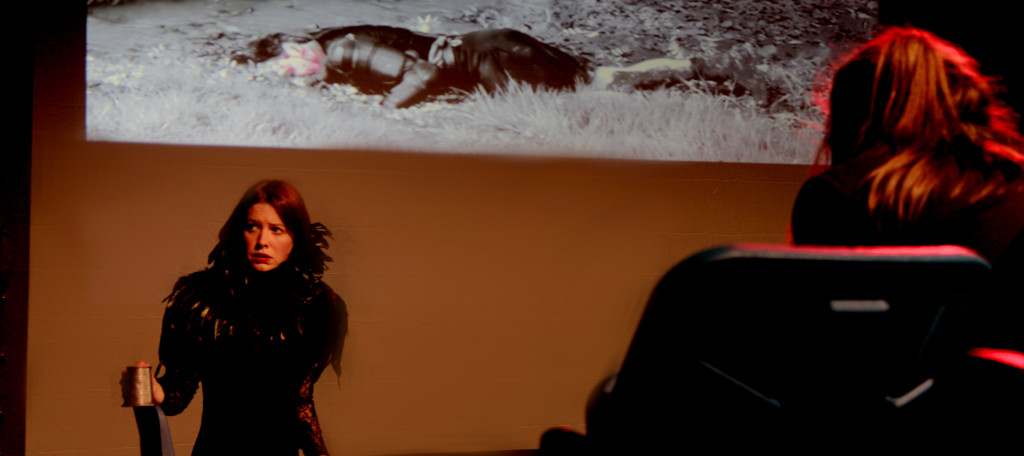 FOUR OF SWORDS has been working hard to build up its portfolio of schools visits and educational projects. We have now performed for 1,000 students in total and collaborated with CAMBRIDGE UNIVERSITY PRESS on the production of digital resources for schools.
For more information please visit the EDUCATION section of our website.
Are you a teacher? Do you work at a school or perhaps a youth group or language school? Surely you MUST be interested in booking FOUR OF SWORDS for a special performance of MACBETH, JEKYLL & HYDE, GAWAIN & THE GREEN KNIGHT or DOCTOR FAUSTUS!? We also offer supremely enlightening workshop sessions!
"The children felt very special to have a performance just for them…
I'll never forget the look of horrified delight on their faces."
Teacher feedback, Clyst Vale Community College
"The best impact day we've ever had!"
Teacher feedback, St Peter's C of E Aided School, Exeter
CONTACT US
If you would like to join the mailing list and be kept up to the minute informed, OR indeed if you would like to suggest a funky venue we may not have thought of… then get in touch: sarah@four-of-swords.com or phil@four-of-swords.com