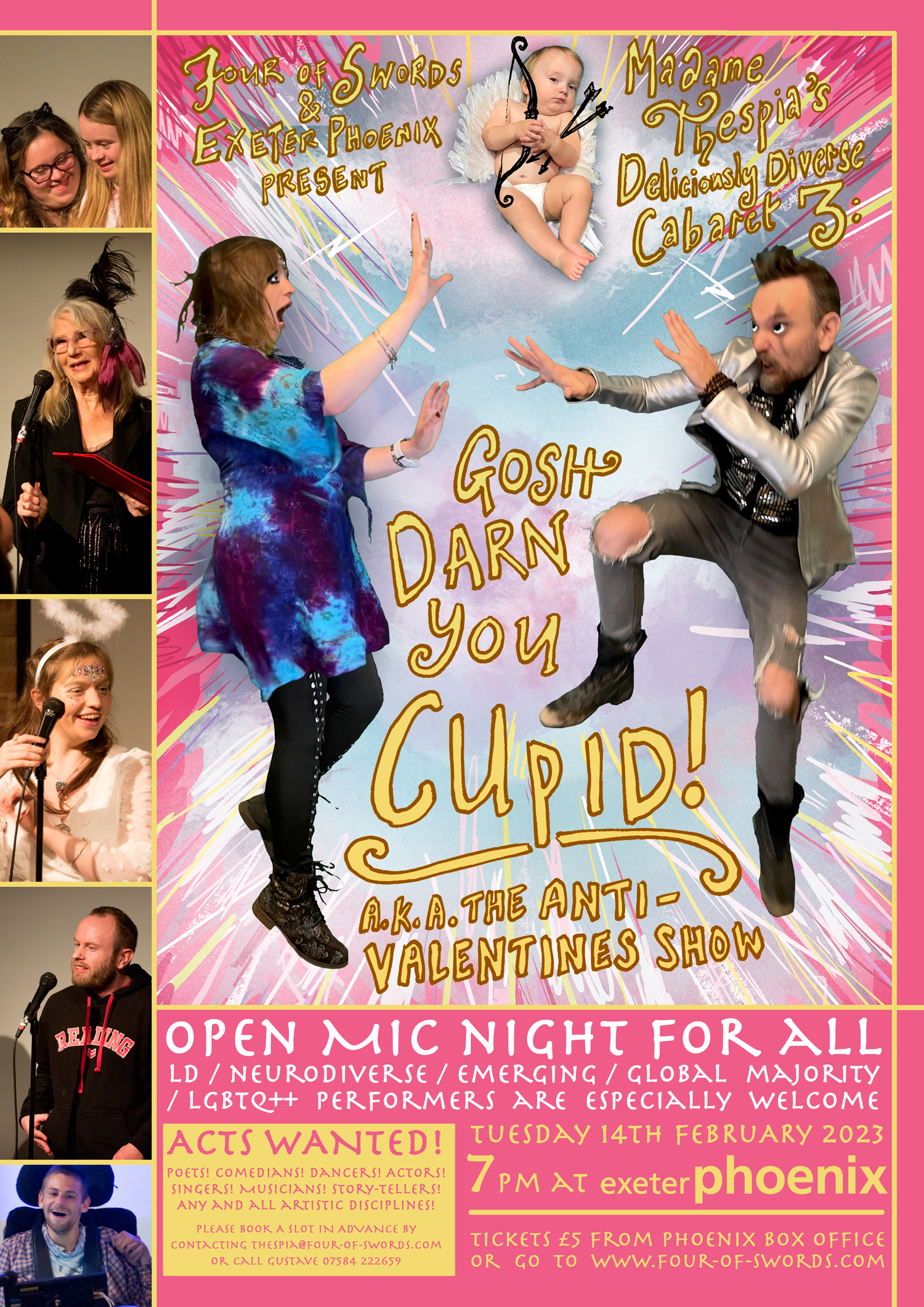 MADAME THESPIA'S DELICIOUSLY DIVERSE CABARET PART 3
GOSH DARN YOU CUPID!
Following the runaway success of Madame Thespia's first Last year saw two sold-out open mic nights, hosted by Madame Thespia, the globe-trotting diva par excellence, and her eternally morose compatriot Gustave LeGrump, showcasing a wealth of local talent. In February this year, on Valentine's Day no less(!), the duo are back to celebrate more of the same.Last year we were thrilled and honoured to host some amazing emerging artists, badass singing, thrilling improv, a couple of impressive films and some damn cool poetry. Our ethos for Madame Thespia's events is to create an atmosphere where artists of all abilities and levels of experience can share their ideas, their skills and their talents and be celebrated. Furthermore, Madame Thespia is confident that February's event will feature the glitziest, most spectacular lineup yet!
ARTISTS! We invite all poets, singers, actors, comedians, film-makers, dancers and artists of all and any discipline! Everyone, especially LD / Neurodiverse / Emerging / Global Majority / LGBTQ+ artists and performers! Please reserve a slot in advance by contacting thespia@four-of-swords.com or phoning Gustave on 07584 222659.
This project is run with the support of the Exeter Phoenix, the Pelican Project and Exeter Northcott.
Tuesday 14th February, 7pm at Exeter Phoenix -Tickets only £5
BOOK YOUR TICKETS HERE! 
*
Our most recent show was: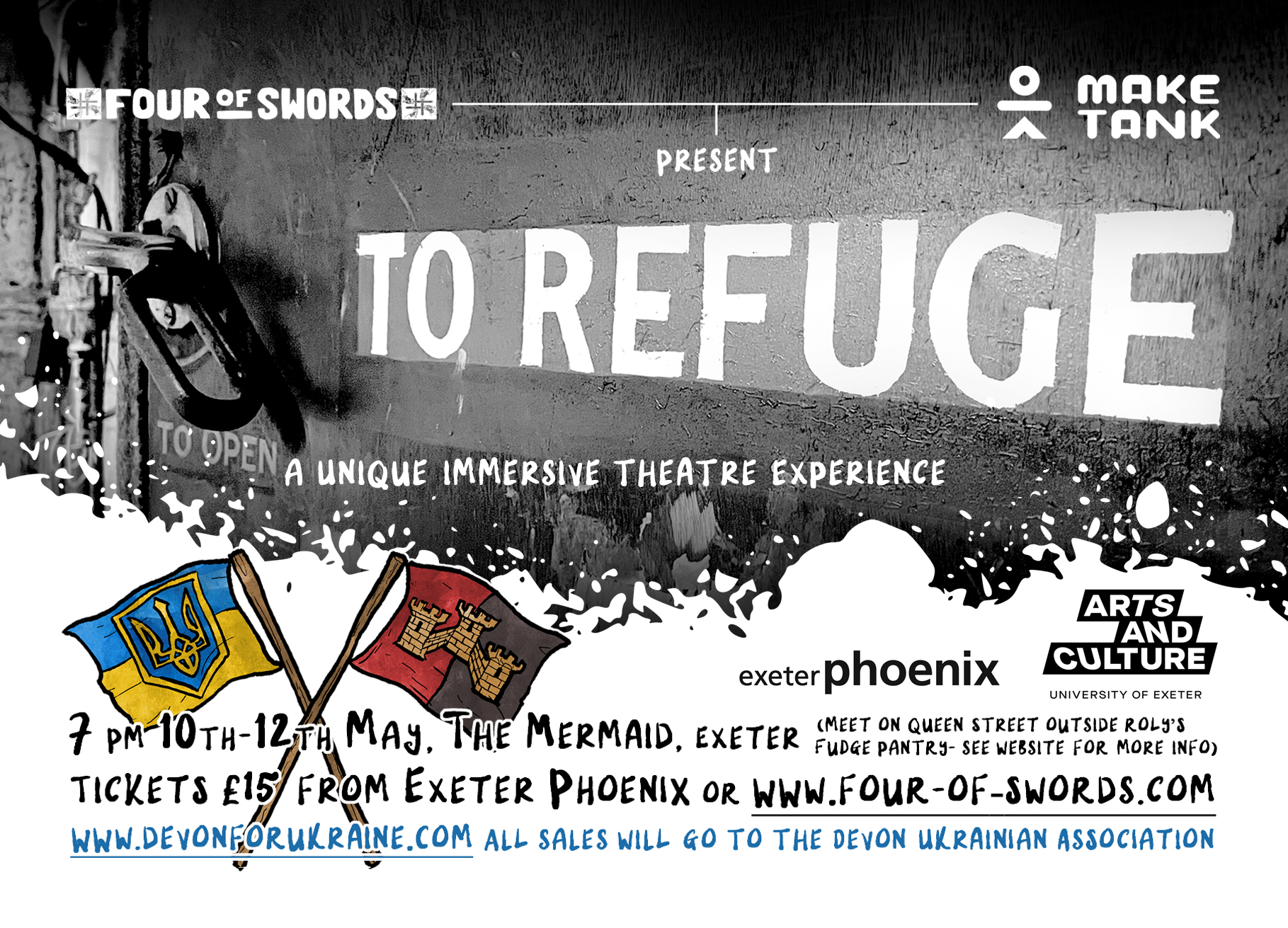 TO REFUGE was an immersive theatre experience which took place at The Mermaid on Gandy Street, Exeter: based on In the Bowels of the Earth by Ukrainian author Elena Hapieieva, describing her experiences in a makeshift bomb shelter as Russia invades Ukraine. It is a tender, angry, sorrowful portrait of a community suddenly placed under extreme and inexplicable duress.
Beyond Hapieieva's raw, crucially current text, we cast our gaze backwards and forwards through time. We are performing this play in a basement on Gandy Street which was itself used as a bomb shelter during WW2. Extracts are woven in from other contemporary Ukrainian works and from the Exeter Blitz Project, a piece of verbatim theatre commissioned ten years ago and collecting the memories of those who survived the mass bombing of Exeter during WW2. We want to support, sympathise and express absolute solidarity with our friends in Ukraine, as well as to challenge our audiences to consider what happens next if unbridled aggression is left unopposed.
TO REFUGE is part of the Worldwide Ukrainian Play Readings Project. It is being produced by Four of Swords and Maketank in collaboration with Exeter Phoenix and Arts and Culture Exeter University.
For more information on the work of the Devon Ukrainian Association, please go to www.devonforukraine.com.
*
We are FOUR OF SWORDS, a theatre, film and education company based in the South West. We specialise in creating visually spectacular, bombastic adaptations of classic stories, and delivering innovative education projects, including Exeter Phoenix's annual Summer Film School, "Acting Out" drama and multi-media workshops for disabled students and school-leavers with The Pelican Project, and international projects in China and Greece with Studio Education and Global Learning. 
*
OUR COMPLETE HISTORY OF SHOWS [click the title for more info on each]:











*
THE FOUR OF SWORDS MANDATE 
 *
SCHOOLS PERFORMANCES / EDUCATION DAYS / WORKSHOPS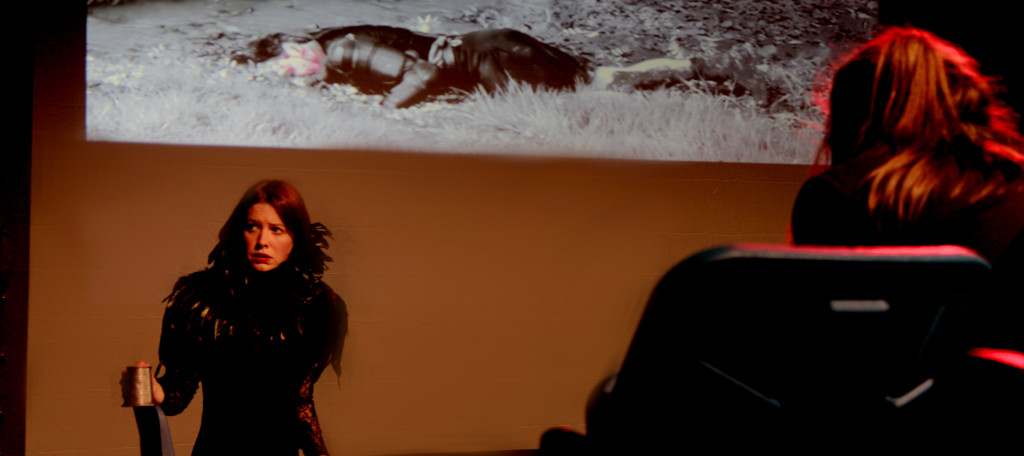 FOUR OF SWORDS has been working hard to build up its portfolio of schools visits and educational projects. We have now performed for 1,000 students in total and collaborated with CAMBRIDGE UNIVERSITY PRESS on the production of digital resources for schools.
For more information please visit the EDUCATION section of our website.
Are you a teacher? Do you work at a school or perhaps a youth group or language school? Surely you MUST be interested in booking FOUR OF SWORDS for a special performance of MACBETH, JEKYLL & HYDE, GAWAIN & THE GREEN KNIGHT or DOCTOR FAUSTUS!? We also offer supremely enlightening workshop sessions!
"The children felt very special to have a performance just for them…
I'll never forget the look of horrified delight on their faces."
Teacher feedback, Clyst Vale Community College
"The best impact day we've ever had!"
Teacher feedback, St Peter's C of E Aided School, Exeter
SCHOOLS PERFORMANCES / EDUCATION DAYS / WORKSHOPS / MORE INFO CLICK HERE
*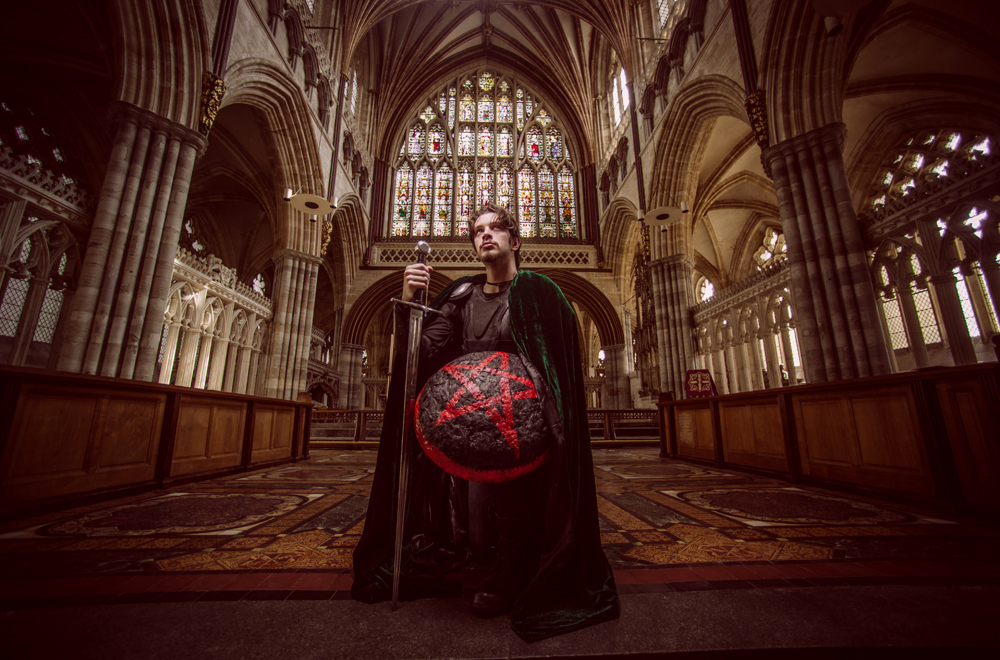 WHO ARE WE & WHAT ARE WE ABOUT?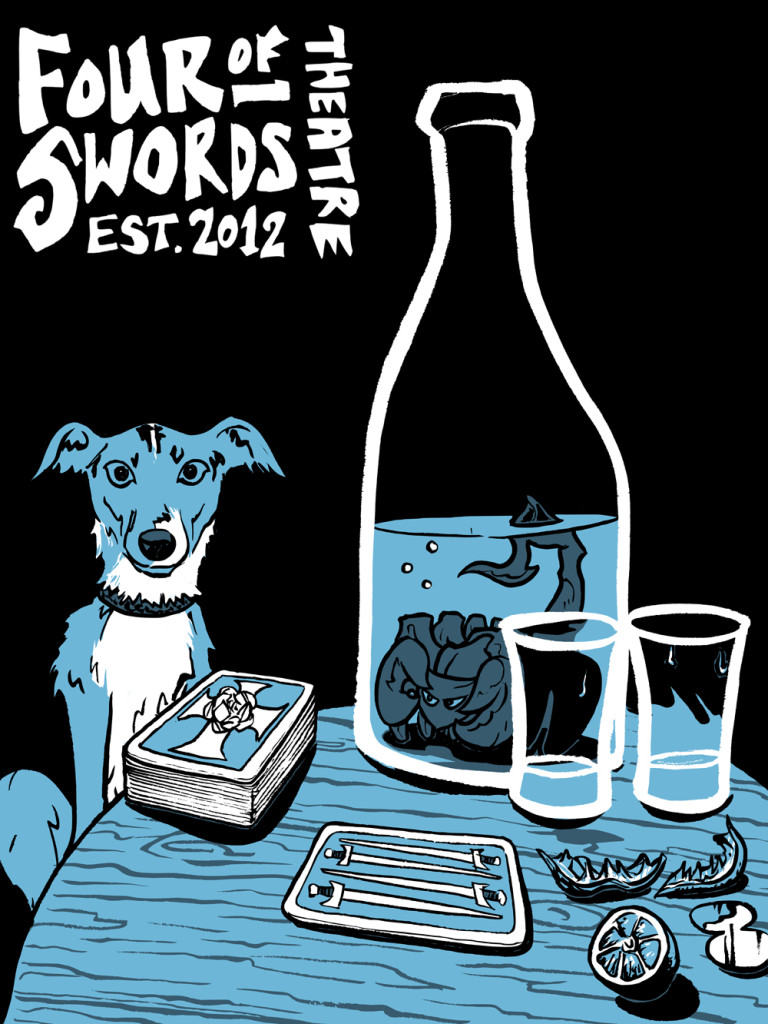 FOUR OF SWORDS THEATRE was founded in 2012, born of two friends' determination to create sensational theatre. After several months of careful planning, in 2013 FOUR OF SWORDS exploded onto the South West theatre scene with two stonking shows.
We've come a long way in a short few years, and succeeded in developing a formula which seems to resonate with people and keep them coming back for more. In short, we are all about creating accessible, vibrant versions of classic stories in unusual spaces. We want to confront and break down notions of what is and is not viable or acceptable as part of a play. We are enthusiastic about multi-media and the use of live music. But most importantly, we want the audience to get swept up in the story.
"There's only one problem with intimate and almost tangible theatre like this, the kind that which surrounds you, whisks you up and takes you with it – you won't want to go back to sitting in an auditorium again."
Fran McElhone, Express & Echo
"I was completely transported, I haven't had such an intense theatre experience in such a long time and it's so exciting to see something like that in the South West."
Audience member feedback
*
CONTACT US
If you would like to join the mailing list and be kept up to the minute informed, OR indeed if you would like to suggest a funky venue we may not have thought of… then get in touch: sarah@four-of-swords.com or phil@four-of-swords.com