FOUR OF SWORDS creates visceral and bombastic immersive theatre experiences in awesome places (e.g. MEDEA in Beer Quarry Caves)… spell-binding education and community projects (such as 1984: WE LOVE BIG BROTHER, collaborating with people with lived experience of hearing voices and seeing things)… cool and quirktastic outreach with performers from the neurodiverse community (such as MADAME THESPIA'S DELICIOUSLY DIVERSE CABARET)… and loads more besides!
---
This October we return underground to present our take on the Greek classic…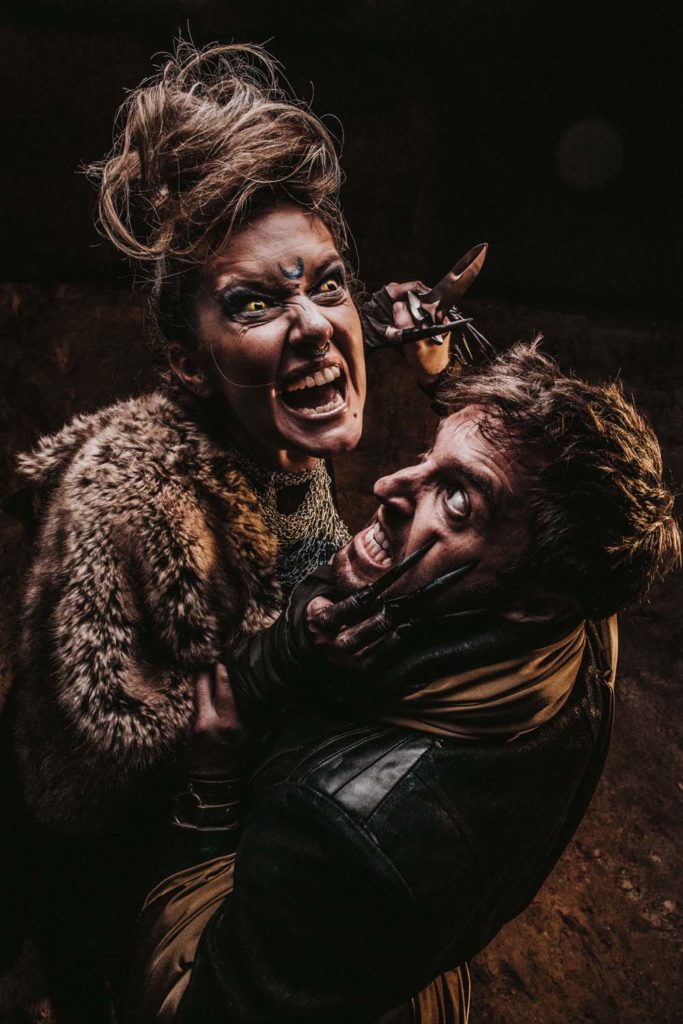 After sold out shows of MEDEA in July we are returning to the stunningly spooky Beer Quarry Caves this Halloween season for three weeks of a spooktastic, subterranean, candlelit interpretation of OEDIPUS.

The legendary riddle-master Oedipus does battle with the crafty Sphinx! He gains the crown of Thebes, and wins the hand in marriage of its mighty queen, Jocasta.

Fast forward seventeen years, and Thebes is once more under threat. Oedipus is determined to fulfil his kingly duty: to hunt out the criminal responsible and leave no stone unturned in the pursuit, regardless of the consequences…!

This show is inspired by the 2,400 year old proto-horror epic by Sophocles, and brought shuddering and spluttering to life in typical Four of Swords style. Featuring a masked singing chorus, about 500 candles and a dash of blood!

The venue, Beer Quarry Caves, is an adventure itself to get to, but well worth the journey, with lots of cosy pubs in the village to grab a bite before or after the show….or fish and chips on the beach!
Dates & Venue info:
5th – 31st October
Beer Quarry Caves, Beer, EX12 3AS
6.45pm & 8.45pm
Tickets £18
BOOK TICKETS HERE
–As with all FOUR OF SWORDS shows, places are limited and early booking is advised. Audience members will be on their feet for all of the 75 minute run time of the show so comfortable footwear is a must. Wrapping up warm and bringing a torch to help you from and to your car is also advisable! 
-Please also be advised the performance may include strobe lighting.
-Regrettably performances at Beer Quarry are not wheelchair accessible.
OEDIPUS is suitable for 11+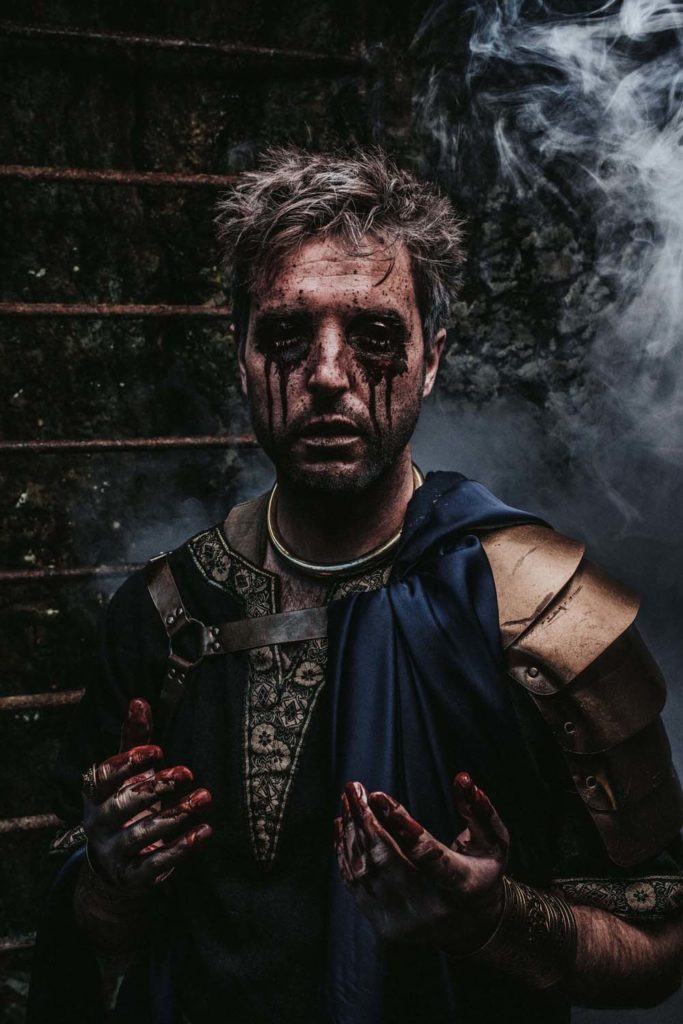 Some nice things people have said about us…
"Absolutely the best performance art in the most stunning location – amazing!! Thank you .. can't wait for the next one!!"
Audience feedback Medea at Beer Caves
"I forgot about the rest of the audience around me and I felt as if I was spying on a very realistic domestic, whose theme continues on through the eons, but with slightly less slaughter; whatever the superlative of amazing is with bells on!"
Audience feedback Medea at Beer Caves
---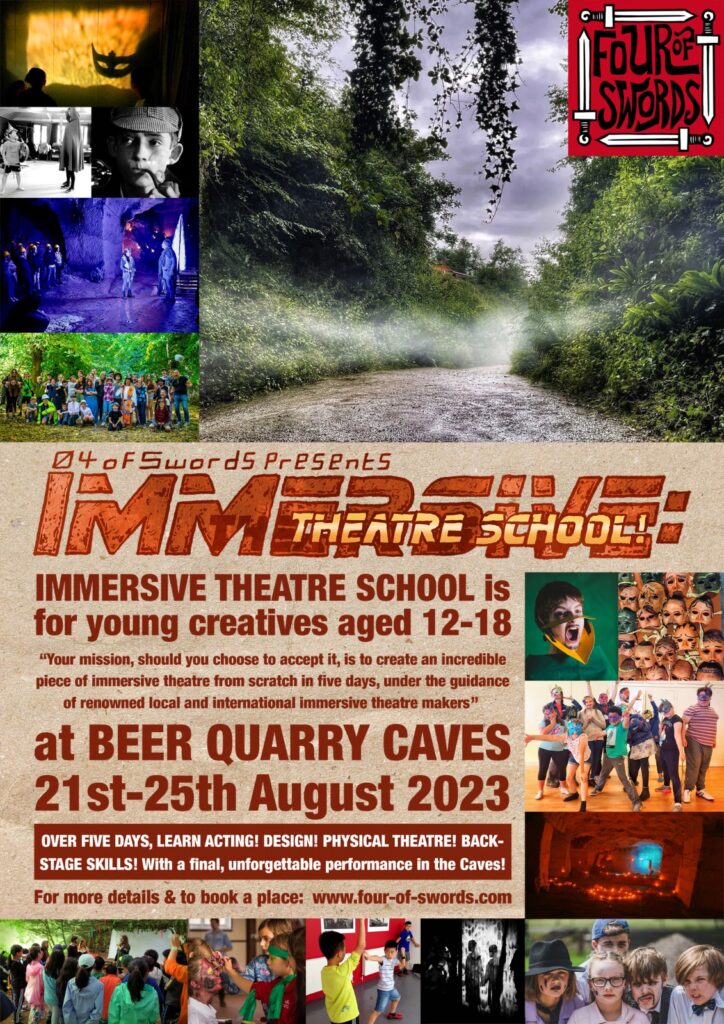 For 12-18 yr old Creatives
21st-25th August at Beer Quarry Caves
BOOK TICKETS HERE
After seven years running Exeter Phoenix's Summer Film School, selling out year after and year and creating so many awesomely bonkers stories,we are changing tack this year to offer… IMMERSIVE THEATRE SCHOOL!
For all aspiring young actors, artists and theatre makers, join us in the beautiful surrounds of Beer Quarry Caves for a week of theatre making culminating in your own immersive, candlelit performance in the caves on the Friday evening.
'It's no mean feat keeping a 13 year old completely absorbed, engaged and creatively challenged for a week and we are indebted to everyone involved… It's been great for his confidence and shown him endless creative possibilities.'
Parent feedback, Summer Film School
It will be an action packed week:
making a show from scratch in 5 days
feelgood summer camp vibes in the gorgeous wooded surrounds of Beer Quarry, nr Seaton
experience in a wide array of skills (writing, design, acting, directing, voice & movement, lighting, film projection & mask making)
all coming together in a final celebration of our work for friends and family to enjoy on the Friday evening
In line with our other projects this summer, the theme for our immersive play will be GREEK MYTHOLOGY. What's not to love?! So if you are or know a young creative person aged 12-18, interested in multi-media storytelling and curious about what goes into creating an awesome immersive theatre show… sign them up now!
DATES & INFO:
21st – 25th August
9am – 4pm each day
Location: Beer Quarry Caves, Nr Seaton, EX12 3AT
Ages 12 – 18
Tickets £250
BOOK TICKETS HERE
Here's a little look at the sort of thing we get up to on our hugely popular Summer Film School week:
Four of Swords Theatre was founded in 2012, born of two friends' determination to create sensational theatre, and right from the start the use of film projection in their theatre shows was integral to their work. Since 2014, they have combined their filmic and theatrical expertise for Exeter Phoenix's Summer Film School and other filmmaking workshops including 'Sherlock Holmes and the Mystery of How to Act on Film'. In 2018, Film School even went international, when Four of Swords took it to Shanghai, China. Recently, Four of Swords has been working on some epic multimedia projects such as "Beyond Gaia" at Exeter Cathedral, funded by the Heritage Lottery Fund, and "1984: We Heart Big Brother", funded by the Wellcome Centre at Exeter University.
Four of Swords have created three immersive theatre shows at Beer Caves over the years including adaptations of Shakespeares Macbeth and Greek classics Medea and Oedipus.
---
SCHOOLS PERFORMANCES / EDUCATION DAYS / WORKSHOPS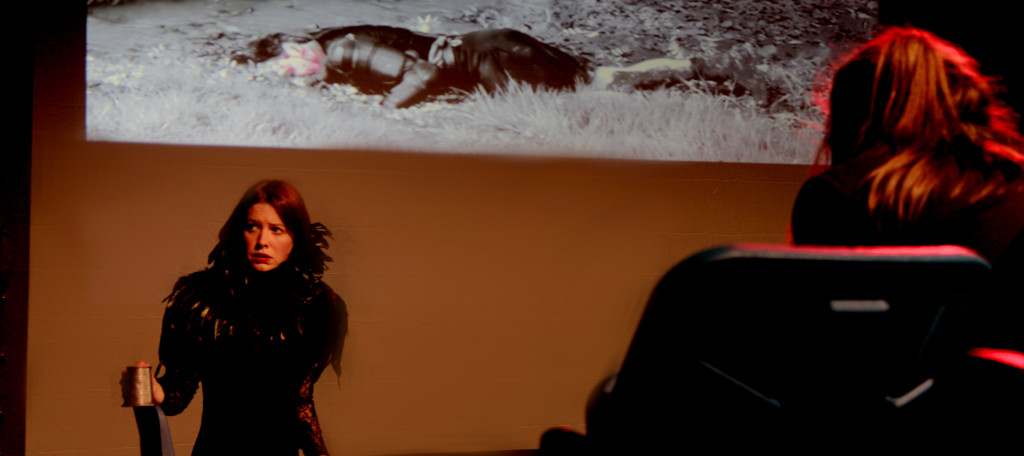 FOUR OF SWORDS has been working hard to build up its portfolio of schools visits and educational projects. We have now performed for 1,000 students in total and collaborated with CAMBRIDGE UNIVERSITY PRESS on the production of digital resources for schools.
For more information please visit the EDUCATION section of our website.
Are you a teacher? Do you work at a school or perhaps a youth group or language school? Surely you MUST be interested in booking FOUR OF SWORDS for a special performance of MACBETH, JEKYLL & HYDE, GAWAIN & THE GREEN KNIGHT or DOCTOR FAUSTUS!? We also offer supremely enlightening workshop sessions!
"The children felt very special to have a performance just for them…
I'll never forget the look of horrified delight on their faces."
Teacher feedback, Clyst Vale Community College
"The best impact day we've ever had!"
Teacher feedback, St Peter's C of E Aided School, Exeter
CONTACT US
If you would like to join the mailing list and be kept up to the minute informed, OR indeed if you would like to suggest a funky venue we may not have thought of… then get in touch: sarah@four-of-swords.com or phil@four-of-swords.com