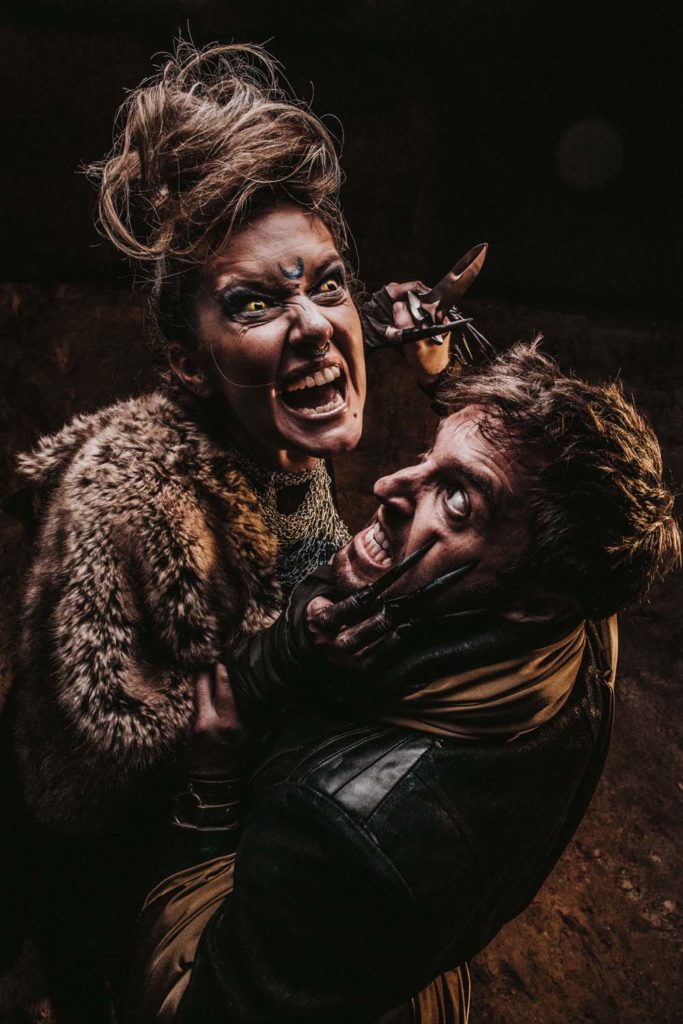 In May 2019, FOUR OF SWORDS unveiled the latest addition to its dark canon of Ancient Greek adaptations: a re-imagining of Sophocles' OEDIPUS REX.
OEDIPUS entertained full audiences and received rave reviews. Visitors especially enjoyed the show's singing, special effects, and characterful cameos.
Four of Swords' retelling of Oedipus is mind-blowing and takes us out of our cushioned comfort zones. Philip Kingslan John's treatment of Oedipus is dreamy – cleverly constructed, stuffed with improbability and fantasy, yet totally accessible and completely compelling.
Anna Marks, Remote Goat
What an absolutely wonderful experience. We enjoyed it very much – the acting, the costume, the script, the humour (would you believe it) and the voices, I particularly loved your interpretation of the chorus.
Doctor of Classics & Ancient History at Exeter University
We were spellbound throughout. Brilliant.
Audience feedback
I know nothing about Greek tragedies, and didn't know what to expect. The acting, the singing, the script, the staging and setting was all brilliant. I took my wife, also not a huge fan of theatre, she came away mesmerised.
Audience feedback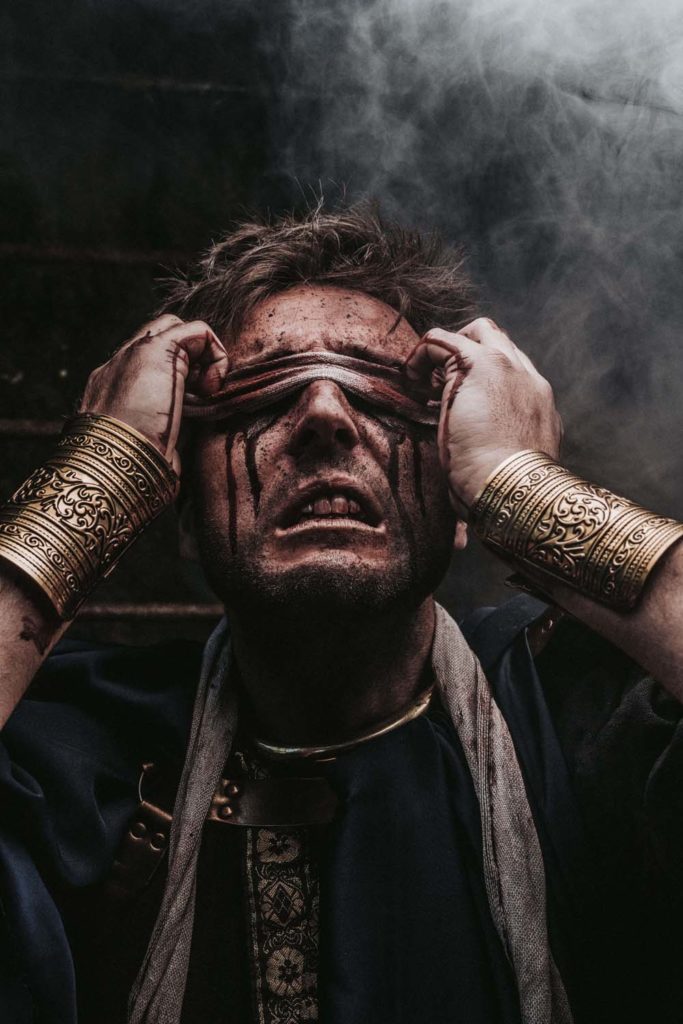 A Note on EGYPTO-GREEK SYNCRETISM

When we first started approaching the text of OEDIPUS, we wanted to make it very different visually from MEDEA.

We saw an opportunity to do this in the depiction of the gods, and in the intriguing connections between the tale of Oedipus and the world of ancient Egypt.
Oedipus is clearly a Greek story, but it features the Egyptian motif, the Sphinx. Why? Furthermore, both Greece and Egypt had cities which were known in Greek as "Thebes". The hypothesis has been proposed by Immanuel Velikovsky that this character of Oedipus was initially based on the pharaoh Akhnaton.
This fuelled our imaginations, and we began researching links between the Egyptian and Greek religious systems. Throughout the ancient world there was always an enthusiasm for aligning deities from different traditions; see this photo of "Hermanubis", fusion of Hermes and Anubis. We were also inspired by Jean Cocteau's version of Oedipus, La Machine Infernale, where Anubis turns up as companion for the Sphinx. We therefore turned all of the deities in our play into hybrid-forms from Greek and Egyptian myth.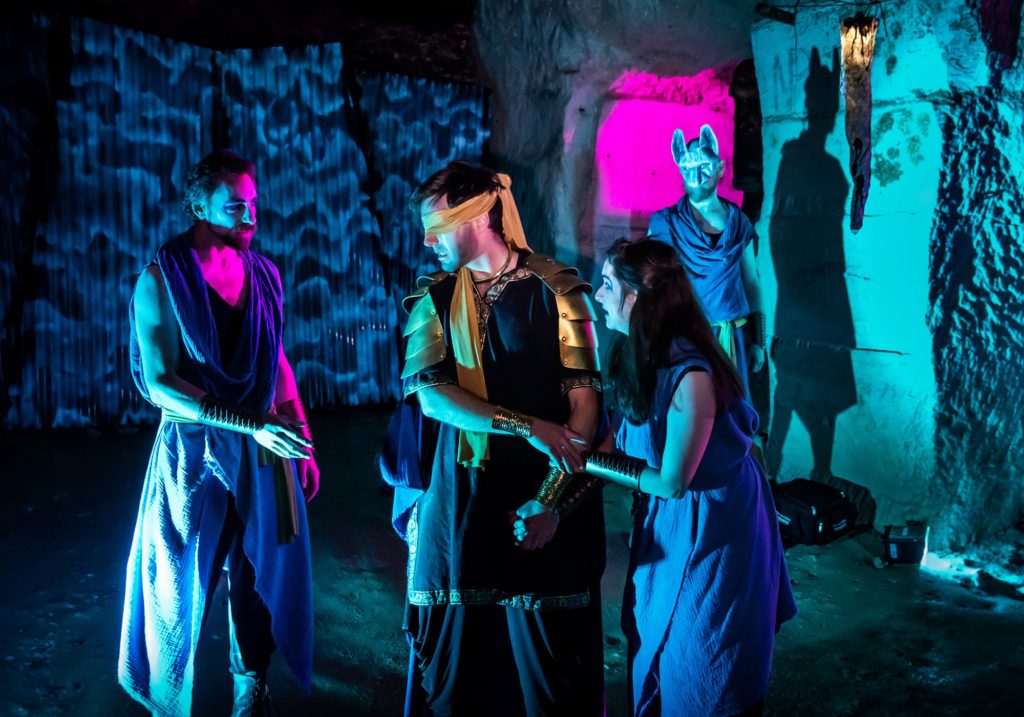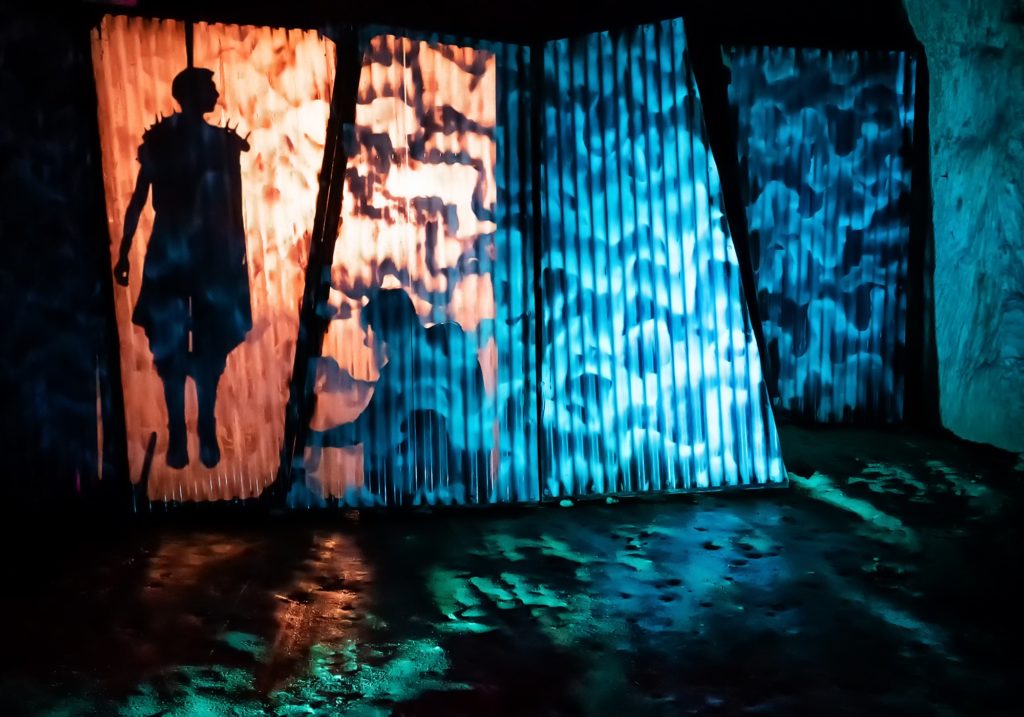 Photographs by Matt Austin and Ian Bateman.
This production was only made possible with the kind support of the Arts Council.