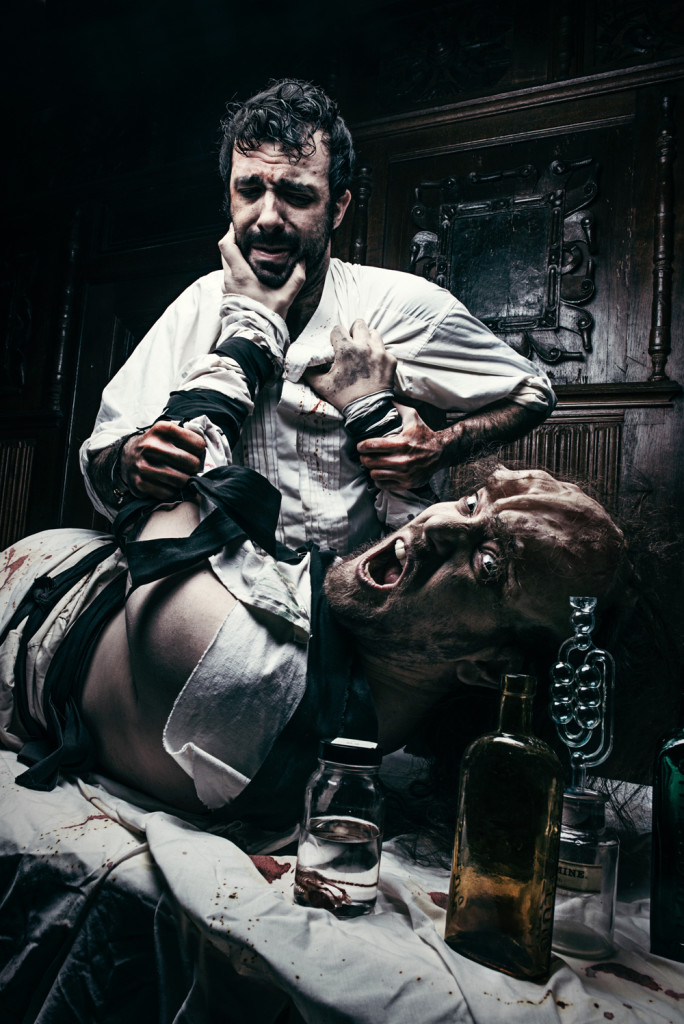 A sister project to our crowd-fave Jekyll & Hyde and inspired by our work on the text for Cambridge University Press [which earned a nomination for best Secondary School digital product at the British Educational Training & Technology awards], FOUR OF SWORDS' FRANKENSTEIN presented a visceral, terrifying adaptation of the Gothic classic. 
We created a look for our version which eschewed filmic notions of the Monster for something much more human and faithful to Shelley's original.
As with previous shows, the production featured live music, larger than life performances, striking production design and, in this case, some sense-shattering savage electro soundscaping!
Our vision of this terrifying tale was last performed in October 2016 at the grand estate of Great Fulford.
Tremendous performance. Loved the atmosphere and imagination. Thought you did a great job
at adapting a weighty text.
Jon Seal, author of Frankenstein: GCSE Literature for AQA Student Book
You might think having the audience shuffle from one room to the next between scenes would break the theatrical spell, but when you find yourself flinching because someone is pointing a pistol in your direction, you realise you've suspended your disbelief and become fully immersed… This production – quite possibly their best yet – was a potent reminder of the power of theatre to shock, unsettle and make us question our most basic assumptions about what it is to be human.
Gordon Richardson, Express & Echo
Thank you so much for a mesmerising performance in such a perfect setting.
I was blown away by the power and the passion!
Audience Feedback
Truly outstanding performance by Four of Swords. You guys never fail to impress.
Audience Feedback
Still trying to shake off the feeling that I saw something unexplainably real last night,
and tell myself it was only THEATRE.
Teacher Feedback
Thanks for the excellent Frankenstein show last night. It was a fantastic atmosphere in Fulford House and a clever interpretation of the story. You even kept a screen-obsessed teenager gripped. Bravo!
Audience Feedback
WE ARE CURRENTLY WORKING TO BRING FRANKENSTEIN BACK… TO REMAIN UP TO DATE WITH FOUR OF SWORDS NEWS, EMAIL PHIL@FOUR-OF-SWORDS.COM & ASK TO BE PUT ON THE MAILING LIST!
*
 production stills by Elliot Butler / publicity shots by Matt Austin