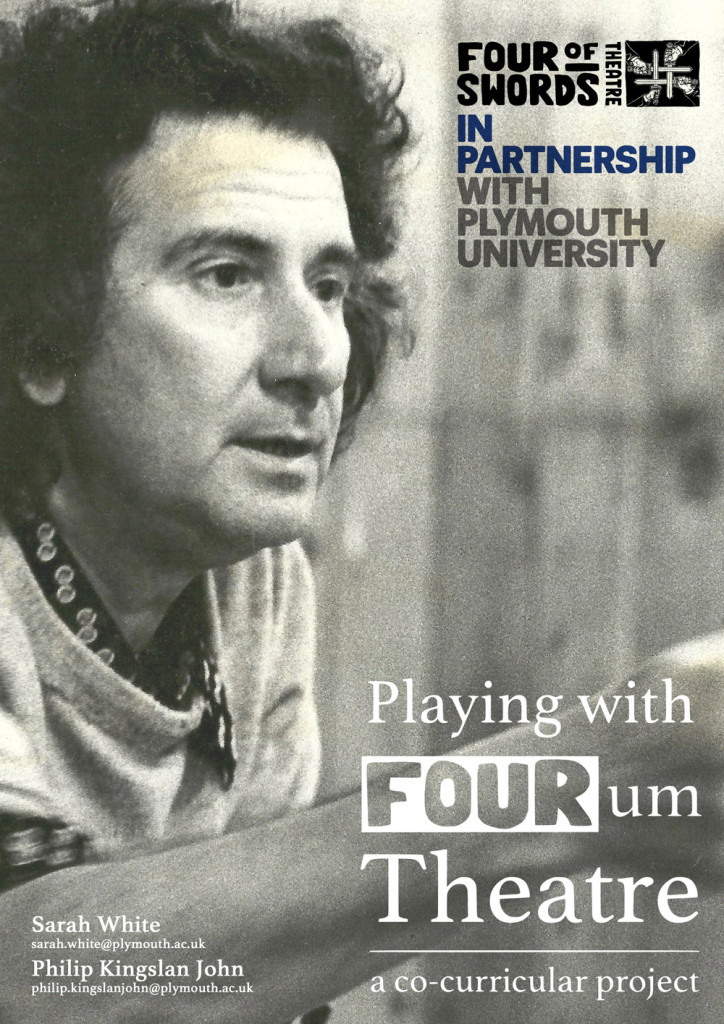 Dear friends!
You are hereby invited to attend a very special Forum Theatre performance on Wednesday 15th March at 6.15pm.
The show is called "Playing with FOURum Theatre – Year 2", and will be performed by undergraduates on the Education Studies course.
The title for this project is a pun on the name Four of Swords and "Forum Theatre", a drama style created by Augusto Boal, the Brazilian theatre director and activist. It is the result of a collaboration between Plymouth University and FOUR OF SWORDS.
PLAYING WITH fourUM THEATRE – YEAR 2
The Studio at THE HOUSE
(Plymouth University's on-site state of the art theatre)
Wednesday 15th March 6.15pm FREE!
This is not a usual FOUR OF SWORDS piece – it is something much more experimental and it is performed by students. Also, you may be asked to get involved! But as a piece of FORUM THEATRE, this is an opportunity for us to get together to use drama TO CHANGE THE WORLD!! I know, amazing, right? And just what we need. It's going to be awesome!!
This project explores the power of Boal's and similar techniques in a 21st Century educational context, and seeks out common ground between students from diverse backgrounds. It establishes links between these ideas and the theories of education researchers such as Wally Penetito, and also draws on reflective, meditative and concentration boosting tactics from disciplines such as yoga, mindfulness studies and aikido.
*
Working with the Four of Swords was a fantastic experience, which actually lead me to setting up my own drama club. Phil & Sarah are amazing, and I thank them so much for opening my eyes even more to the wonderful things drama can do!
Programme Participant
*
FOUR OF SWORDS co-founders Phil and Sarah have between them a wealth of experience in education and have been keenly developing our FOUR OF SWORDS "educational programme". We have performed to over 1000 students in a variety of schools as well as organising workshops and film projects and working with partners such as DEVON LIBRARIES, EXETER PHOENIX and CAMBRIDGE UNIVERSITY PRESS.
Choose an option to find out more: