FOUR OF SWORDS co-founders Phil and Sarah are always working to develop our education programme. Phil's background is actually in education (he worked as a teacher of English and Drama at Secondary School level for six years), and Sarah is an experienced workshop facilitator. Plus, she has an almost magical empathy with petulant teenagers…
FOUR OF SWORDS has now worked with a range of schools throughout the South West, both private and non-fee-paying, as well as forging links even further afield by entertaining visiting teachers from Japan and students from Shanghai, China.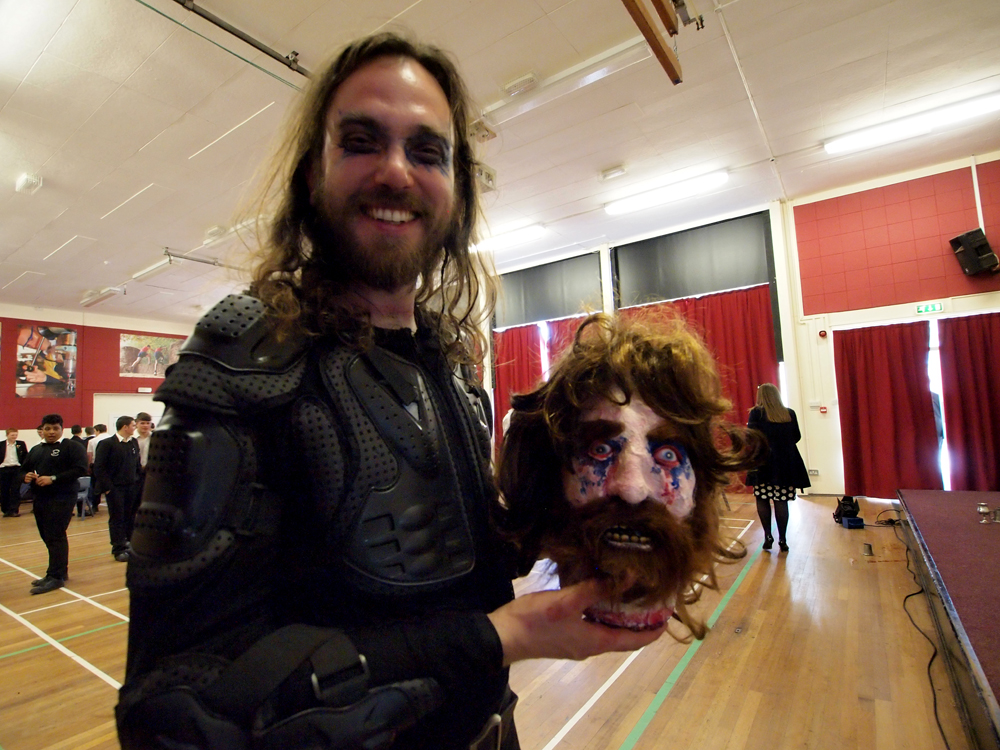 "Pupils expressed how 'inspired' they have been. This has certainly been the best project that I have worked with in school and I have been working as a teacher since 1983."
Teacher feedback, Central Devon PLS
 "The best impact day we've ever had."
Teacher feedback, St Peter's Exeter
 "It has improved my understanding of the story immensely and I have many positive thoughts on English literature after watching your play."
Year 9 student feedback
Click here to see the page on the Isca website about our visit
Our main schools products are listed below. The performances and workshops are aimed at GCSE students, however we pride ourselves on flexibility: we have performed other shows from our repertoire for younger students and if you have any different requirements or ideas for projects then we would love to hear from you: phil@four-of-swords.com
PERFORMANCES & WORKSHOPS FOR STUDENTS

We offer fun-packed, multi-media, interactive, thought-provoking adaptations of the following GCSE texts:

MACBETH
JEKYLL & HYDE
FRANKENSTEIN

coming soon!

Our performances are approx 50 minutes long: designed to fit into a single period at school. We are happy to perform the show more than once over the course of a morning or a full school day.

We are also keen to complement our performance[s] with a workshop or two, designed to explore themes and/or characters in the story [informed by your school's requirements] and conclude with a plenary session wrapping the whole thing up. In these plenaries we've found that the opportunity for students to act alongside, write for or direct our performers has greatly improved their understanding, confidence and enjoyment of the texts.

CPD FOR TEACHERS

We are also offering the opportunity for FOUR OF SWORDS member to come into schools to host CPD sessions, whether as part of an INSET day or twilight session.

"Four of Swords has a pioneering take on heritage texts and it's been a privilege to work with them."
Martin Phillips, Ex-Chief Examiner
& Project Co-ordinator for CUP

In its work with Martin Phillips and Cambridge University Press [click here for more info], FOUR OF SWORDS has been developing new ways of using drama techniques and adaptation theory to teach literature, especially at GCSE.

We would be delighted to deliver a seminar to teachers, model games and techniques, and leave  behind a host of resources which can be used in classrooms long after we've gone!
BOOK FOUR OF SWORDS TO VISIT YOUR SCHOOL!
If you are interested in what we have to offer then we would love to hear from you. As mentioned before, everything is flexible to suit your needs. Please contact phil@four-of-swords.com to discuss dates and prices and things!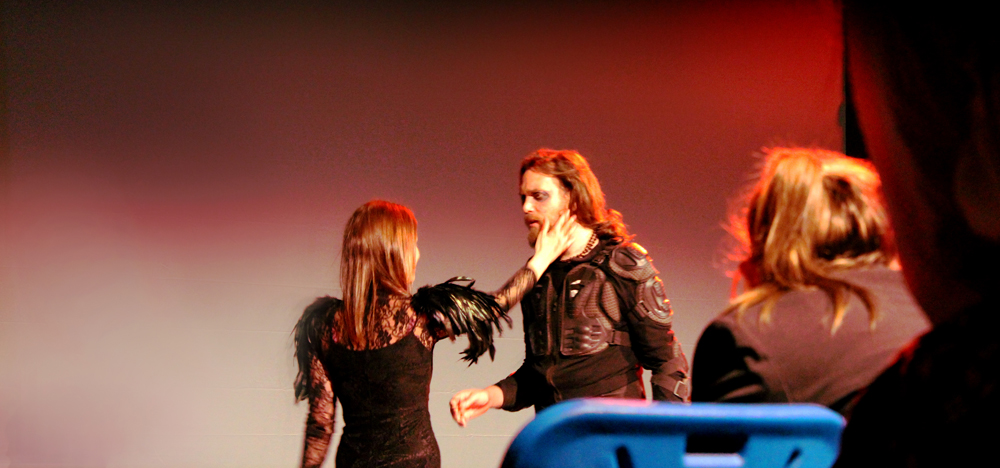 LEARN ABOUT OUR OTHER ADVENTURES IN EDUCATION: